Madden 23: Ultimate Kickoff 2 Players Revealed
Madden 23
Date: Sep/16/22 08:30:12
Views: 691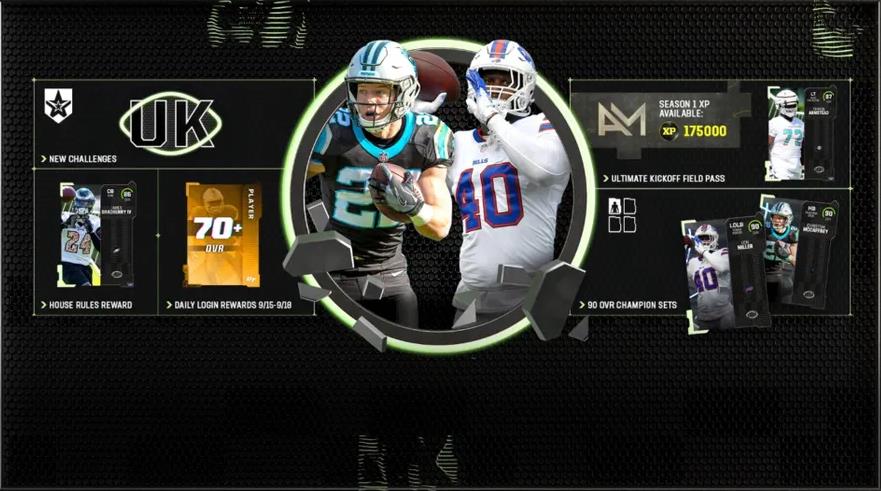 In anticipation of the start of a brand new NFL season, Madden 23 released its latest MUT Program known as the Madden Ultimate Kickoff collection. Stacked with loads of bright talent to add to your team, the Madden Ultimate Kickoff Program offers many rewards worth digging into as fans continue to improve their lineups. Now, players are trying to find ways to get better by adding some of the Ultimate Kickoff II cards in MUT 23. Let's take a look at all the players you can expect to acquire in Madden 23's second edition of the Ultimate Kickoff Program. From Elites to Heroes, Champions, and more!

Limited Edition (90 Overall)

The Madden 23 Limited Edition (LTD) for this latest Ultimate Kickoff drop is Jaguars RG, Brandon Scherff. After a great performance last week, Scherff was granted the LTD honors and will provide a big leg up for any offensive line you put him on. His best strengths include 91 run block finesse, 90 pass block finesse, and 90 awareness.

Champions (90 Overall)
Christian McCaffrey (HB) – Panthers

One of the champions for the Ultimate Kickoff Program in Madden 23 is none other than the dangerous Christian McCaffrey. His best skills include 91 agility, 90 acceleration, and 89 change of direction. This card is guaranteed to become a fan favorite in MUT 23 over the next few days so if you spend some madden 23 coins to get it early; your gaming experience will be better!

Von Miller (LOLB) – Bills

The second champion for the Ultimate Kickoff Program in Madden 23 is the future Hall of Famer Von Miller. He is one of the best MUT 23 linebackers in the game. The best ratings of his card are the following: 91 block shedding, 90 power move, and 89 tackling. Adding this card to your lineup is a great idea and can boost your team a big.

Heroes (87 Overall)

Matt Ryan (QB) – Colts
Allen Robinson (WR) – Rams
George Pickens (WR) – Steelers
DeVante Parker (WR) – Patriots
D.J. Chark (WR) – Lions
Mark Glowinski (RG) – Giants
Noah Fant (TE) – Seahawks
Jarran Reed (RE) – Chiefs
Randy Gregory (ROLB) – Broncos
Jordan Hicks (MLB) – Vikings
Foyesade Oluokun (MLB) – Jaguars
Jalen Reeves-Maybin (LOLB) – Texans
D.J. Reed Jr. (CB) – Jets
Rock Ya-Sin (CB) – Raiders
Tyrann Mathieu (SS) – Saints
Budda Baker (SS) – Cardinals

House Rules Players (86 Overall)

James Bradberry (CB) – Eagles

High Elites (85 Overall)

Geno Smith (QB) – Seahawks
Christian Kirk (WR) – Jaguars
Akiem Hicks (RE) – Buccaneers

Low Elites (82 Overall)

Mack Wilson Sr. (MLB) – Patriots
Arden Key (LOLB) – Jaguars
Ronald Jones II (HB) – Chiefs

What's your first impression of Ultimate Kickoff Part 2 Players? Please let us know in the comments section below. Last, remember that more cards will be brought to the Madden 23 Ultimate Team platform throughout the week.