Madden 22: The latest guide to player ratings, ranking, and 99 clubs!
Madden 22
Date: Aug/04/21 16:27:26
Views: 1852
It's already August, and this is the last peace before the storm! Over the years, this popular video game series has improved its gameplay and fine-tuned its scoring system to establish itself as a football game in the industry. Before the Madden NFL 22 season is approaching, we already know the complete information of the top NFL players. The Madden NFL 22 player rating released by the ESPC platform affects the mood of every Madden player. For these scoring data, some players laughed at the scores given by the developers and happily accepted the additional checks, but many more players expressed dissatisfaction with the apparent disrespect of the game.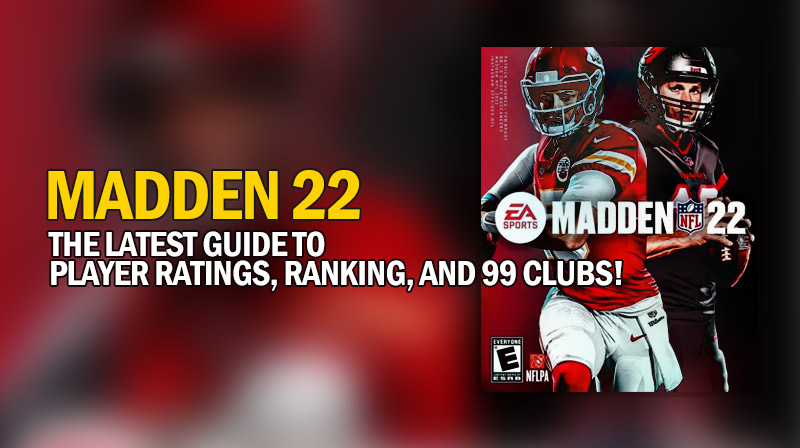 Without further ado, let's take a look at all the Madden NFL 22 player ratings published by EA to see how your players score.
Top 10 Ball Carrier Vision (Madden NFL 22)
1. Nick Chubb - 96 Rating
2. Dalvin Cook - 95 Rating
3. Christain McCaffrey - 94 Rating
4. Alvin Kamara - 93 Rating
5. Derrick Henry - 92 Rating
6. James Robinson - 91 Rating
7. Ezekial Elliott - 90 Rating
8. Chris Carson - 90 Rating
9. Aaron Jones - 89 Rating
10. Josh Jacobs - 89 Rating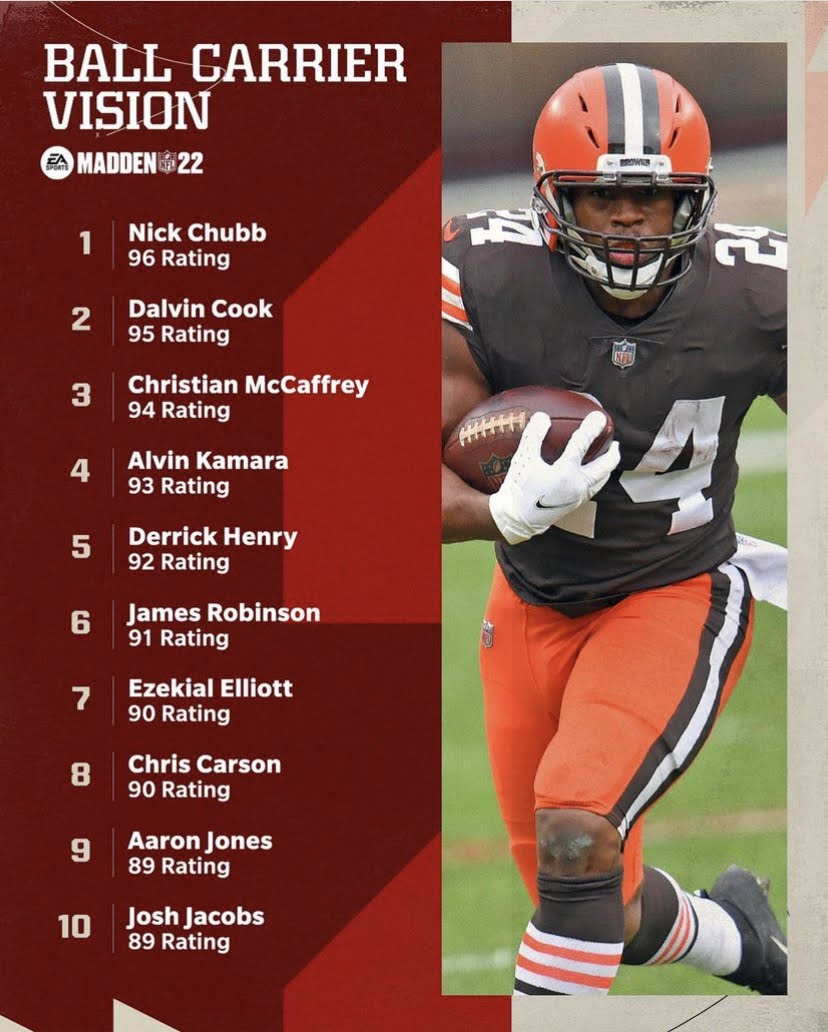 Top 10 Block Shedding-Defensive Line (Madden NFL 22)
1. Aaron Donald - 97 Rating
2. Cameron Heyward - 94 Rating
3. Michael Pierce - 93 Rating
4. Akiem Hicks - 91 Rating
5. Stephon Tuitt - 91 Rating
6. Calais Campbell - 90 Rating
7. Kenny Clark - 90 Rating
8. Demarcus Lawrence - 89 Rating
9. DeForest Buckner - 88 Rating
10. Quinnen Williams - 88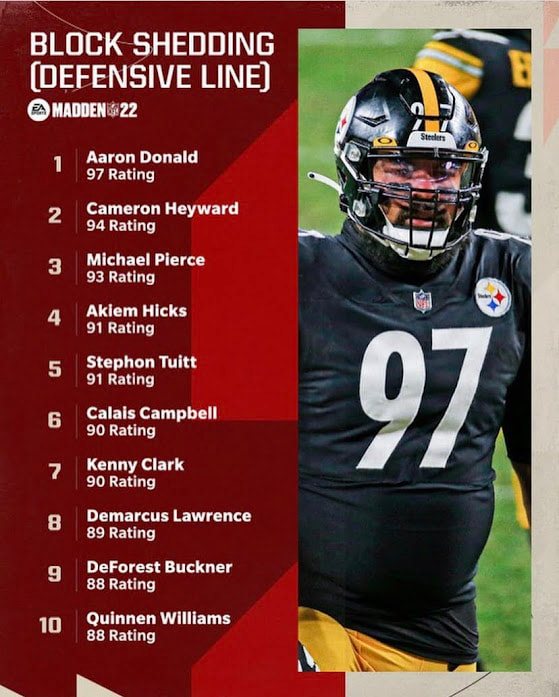 Top 10 Break Tackle-Running Backs(Madden NFL 22)
1. Nick Chubb - 98 Rating
2. Dalvin Cook - 96 Rating
3. Derrick Henry - 95 Rating
4. Alvin Kamara - 94 Rating
5. Josh Jacobs - 93 Rating
6. Chris Carson - 92 Rating
7. James Robinson - 91 Rating
8. Kareem Hunt - 90 Rating
9. Saquon Barkley - 89 Rating
10. James Conner - 88 Rating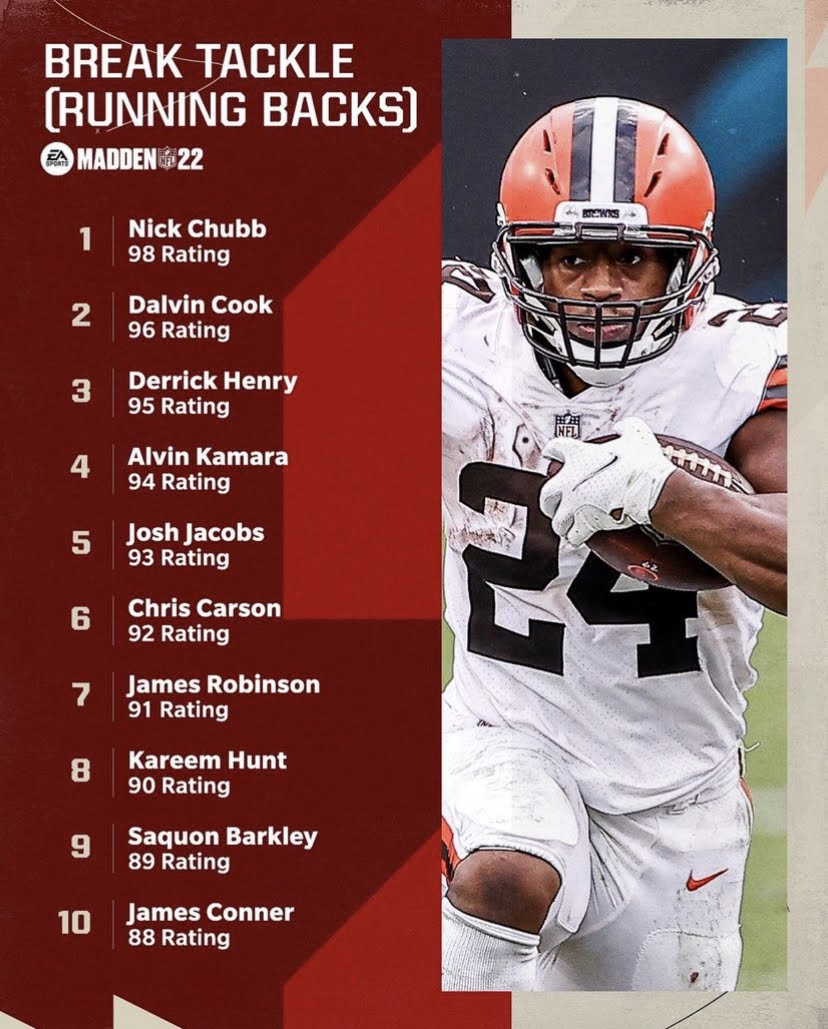 Top 10 Catching(Wide Receivers) (Madden NFL 22)
1. Davante Adams - 99 Rating
2. DeAndre Hopkins - 99 Rating
3. Allen Robinson - 97 Rating
4. Michael Thomas - 97 Rating
5. Cole Beasley - 97 Rating
6. Julio Jones - 96 Rating
7. Keenan Allen - 96 Rating
8. Terry McLaurin - 95 Rating
9. Amari Cooper - 95 Rating
10. Antonio Brown - 94 Rating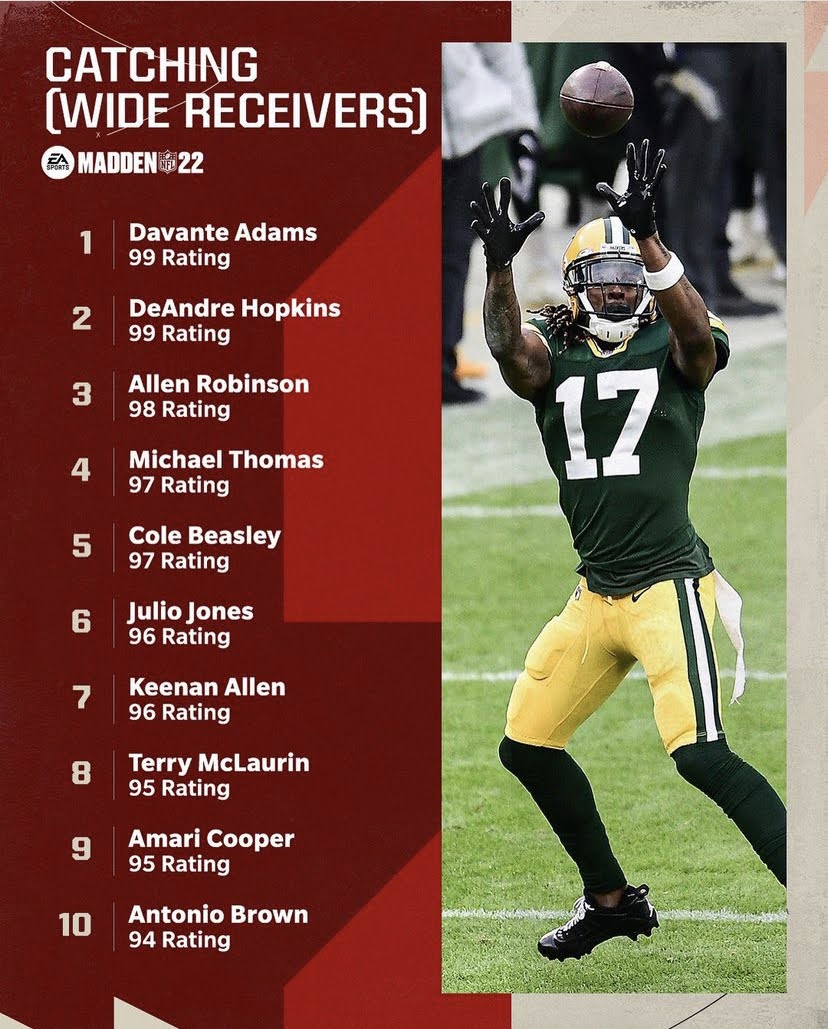 Top 10 Deep Route Running (Madden NFL 22)
1. Tyreek Hill - 97 Rating
2. Stefon Diggs - 94 Rating
3. Davante Adams - 93 Rating
4. DeAndre Hopkins - 92 Rating
5. Amari Cooper - 91 Rating
6. Robby Anderson - 91 Rating
7. Keenan Allen - 90 Rating
8. Calvin Ridley - 90 Rating
9. Julion Jones - 89 Rating
10. Michael Thomas - 89 Rating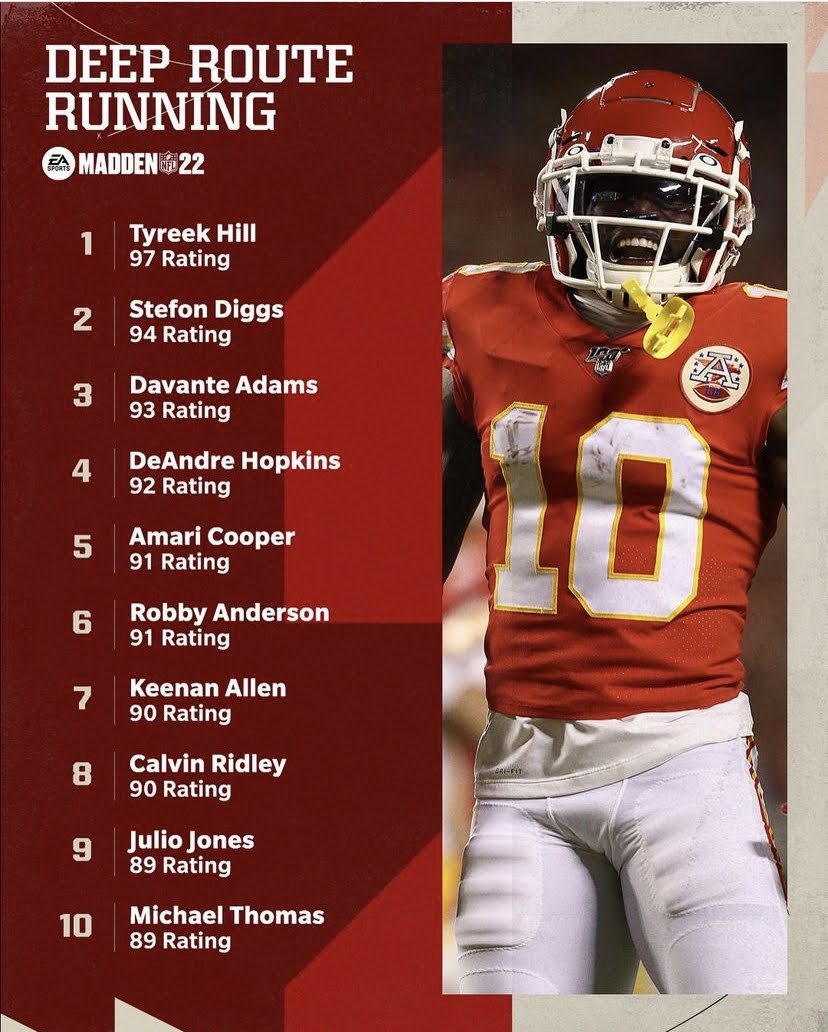 Top 10 Finesse Move(Edge Rushers) (Madden NFL 22)
1. Joey Bosa - 96 Rating
2. T.J. Watt - 94 Rating
3. Nick Bosa - 93 Rating
4. Chandler Jones - 92 Rating
5. Myles Garrett - 91 Rating
6. Shaquil Barrett - 91 Rating
7. Danielle Hunter - 90 Rating
8. Khalil Mack - 89 Rating
9. J.J. Watt - 89 Rating
10. Brian Burns - 89 Rating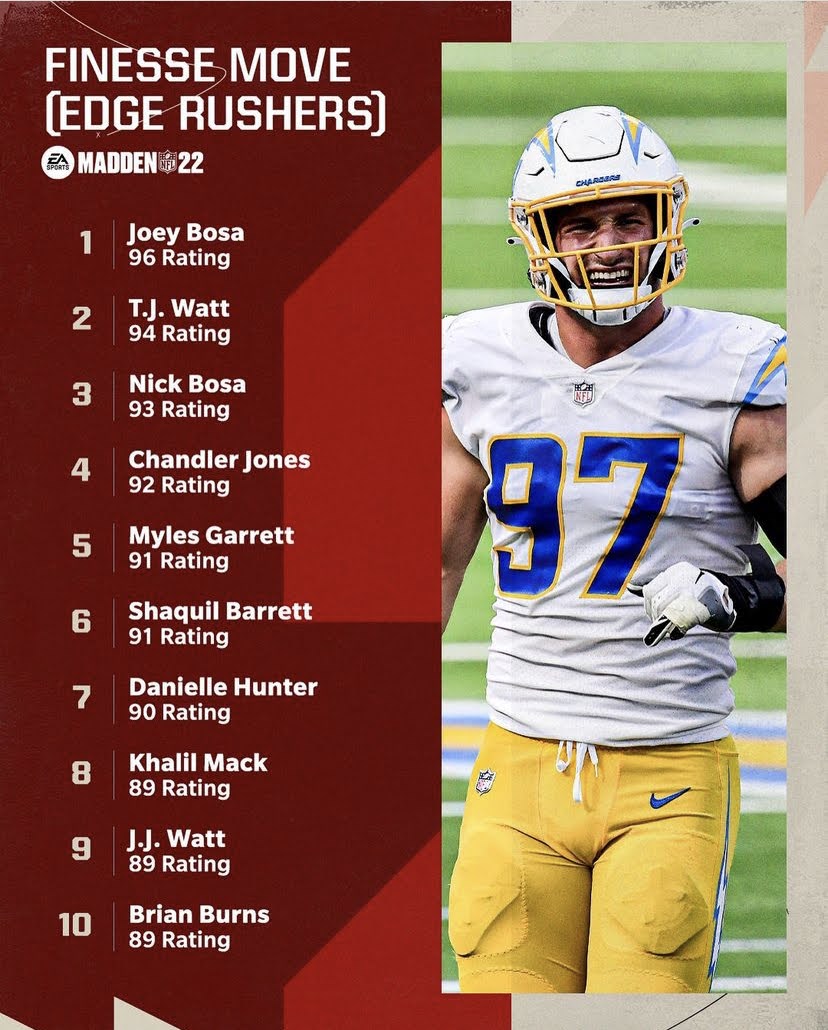 Top 10 Man Coverage(CornerBacks) (Madden NFL 22)
1. Jalen Ramsey - 99 Rating
2. Stephon Gilmore - 98 Rating
3. Jaire Alexander - 97 Rating
4. Tre'Davious White - 95 Rating
5. Marlon Humphrey - 93 Rating
6. Jame Bradberry - 95 Rating
7. Kendall Fuller - 91 Rating
8. Marcus Peters - 90 Rating
9. Denzel Ward - 89 Rating
10. Xavien Howard - 88 Rating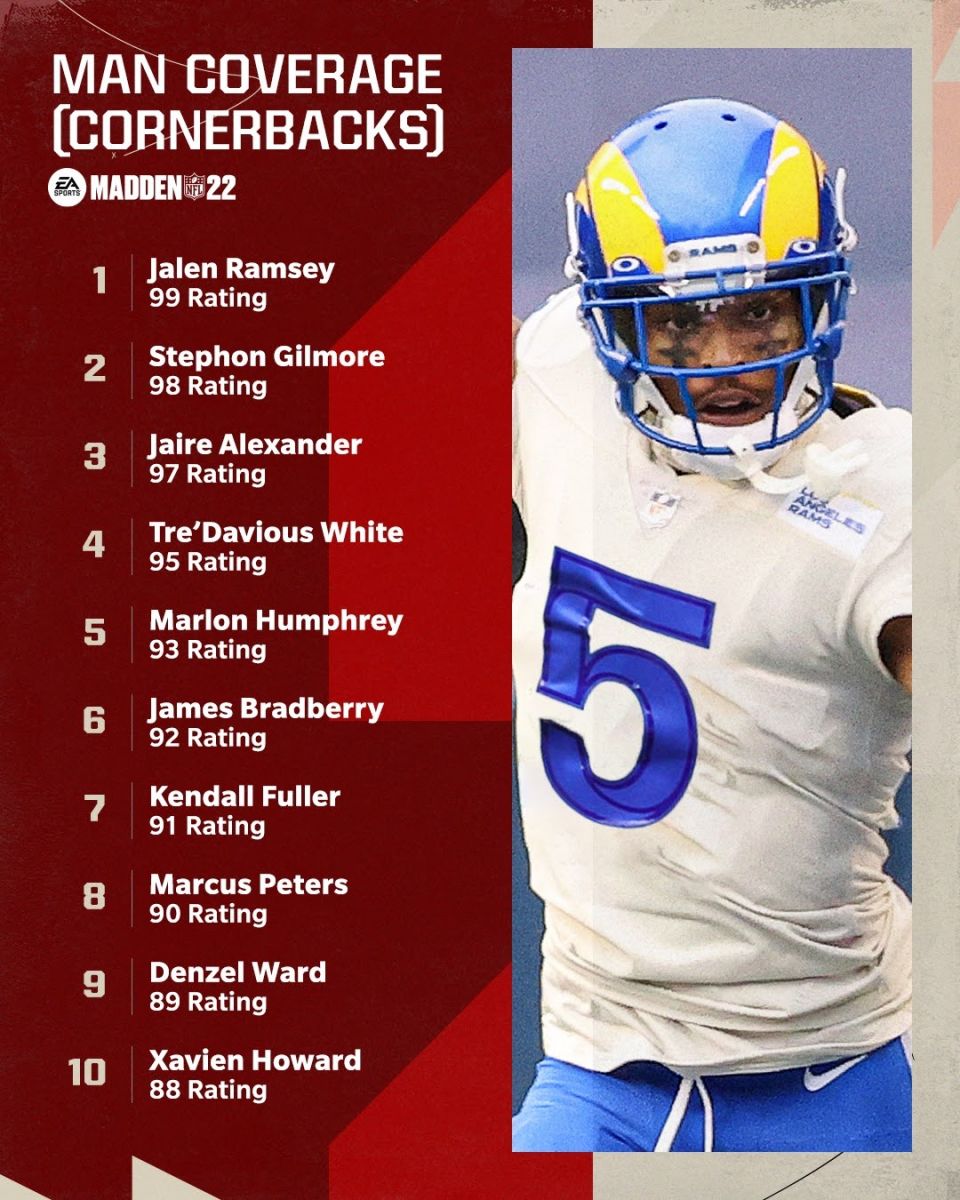 Top 10 Medium Route Running (Madden NFL 22)
1. Davante Adams - 98 Rating
2. Stefon Diggs - 97 Rating
3. DeAndre Hopkins - 96 Rating
4. Keeanan Allen - 94 Rating
5. Tyreek Hill - 93 Rating
6. Michael Thomas - 92 Rating
7. Amari Cooper - 92 Rating
8. Julio Jones - 91 Rating
9. Calvin Ridley - 91 Rating
10. Odell Beckham Jr. - 90 Rating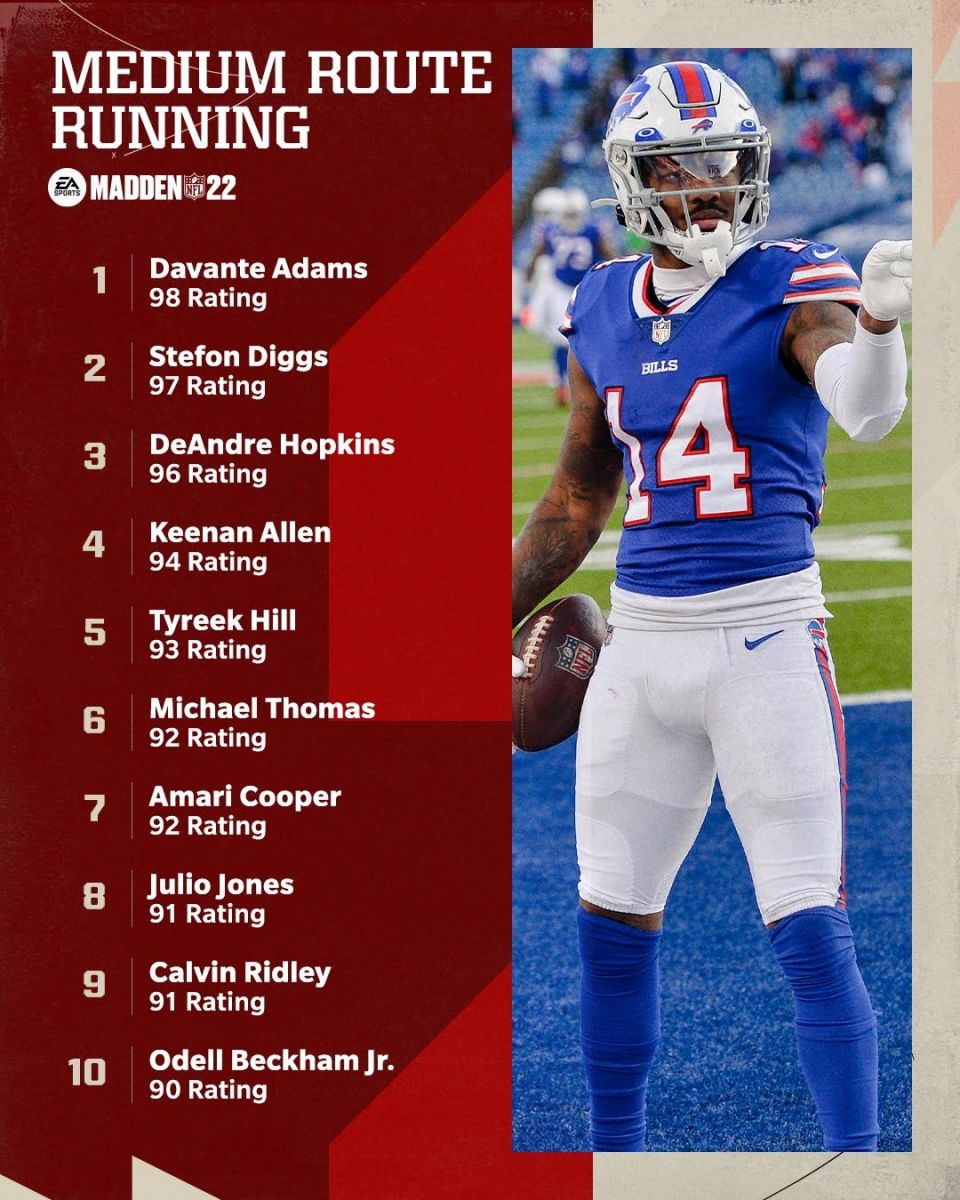 Top 10 Power Move(Defensive Line) (Madden NFL 22)
1. Aaron Donald - 99 Rating
2. Chris Jones - 97 Rating
3. Fletcher Cox - 95 Rating
4. Cameron Heyward - 94 Rating
5. Akiem Hicks - 91 Rating
6. Stephon Tuitt - 90 Rating
7. Matthew Loannidis - 89 Rating
8. Jonathan Allen - 88 Rating
9. Vita Vea - 87 Rating
10. David Onyemata - 86 Rating
Top 10 Power Move - Edge Rushers (Madden NFL 22)
1. Myles Garrett - 98 Rating
2. Chandler Jones - 95 Rating
3. Khalil Mack - 93 Rating
4. J.J. Watt - 93 Rating
5. Cameron Jordan - 92 Rating
6. Von Miller - 91 Rating
7. Za'Darius Smith - 90 Rating
8. Joey Bosa - 89 Rating
9. Brandon Graham - 88 Rating
10. Leonard Williams - 87 Rating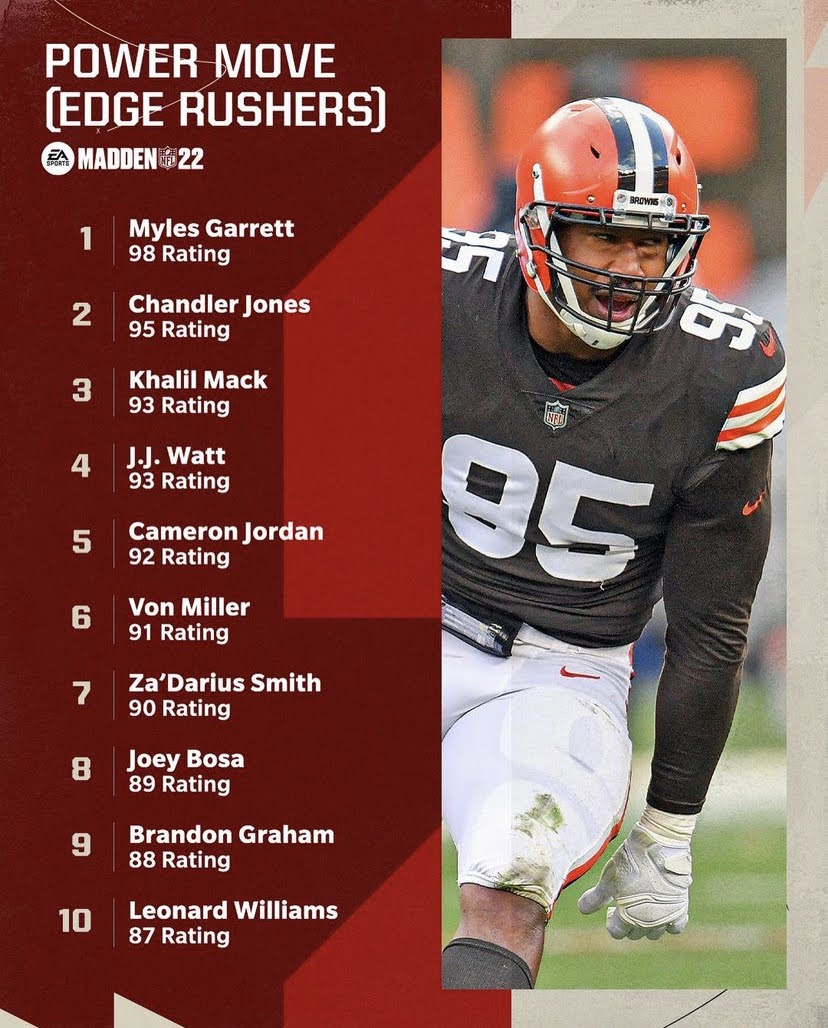 Top 10 Running Back Carrying (Madden NFL 22)
1. Phillip Lindsay - 99 Rating
2. Nick Chubb - 97 Rating
3. Leonard Fournette - 97 Rating
4. Jamaal Williams - 97 Rating
5. Christian McCaffrey - 96 Rating
6. Joe Mixon - 96 Rating
7. James Robinson - 96 Rating
8. Saquon Barkley - 95 Rating
9. Kareem Hunt - 95 Rating
10. Clyde Edwards-Helaire - 95 Rating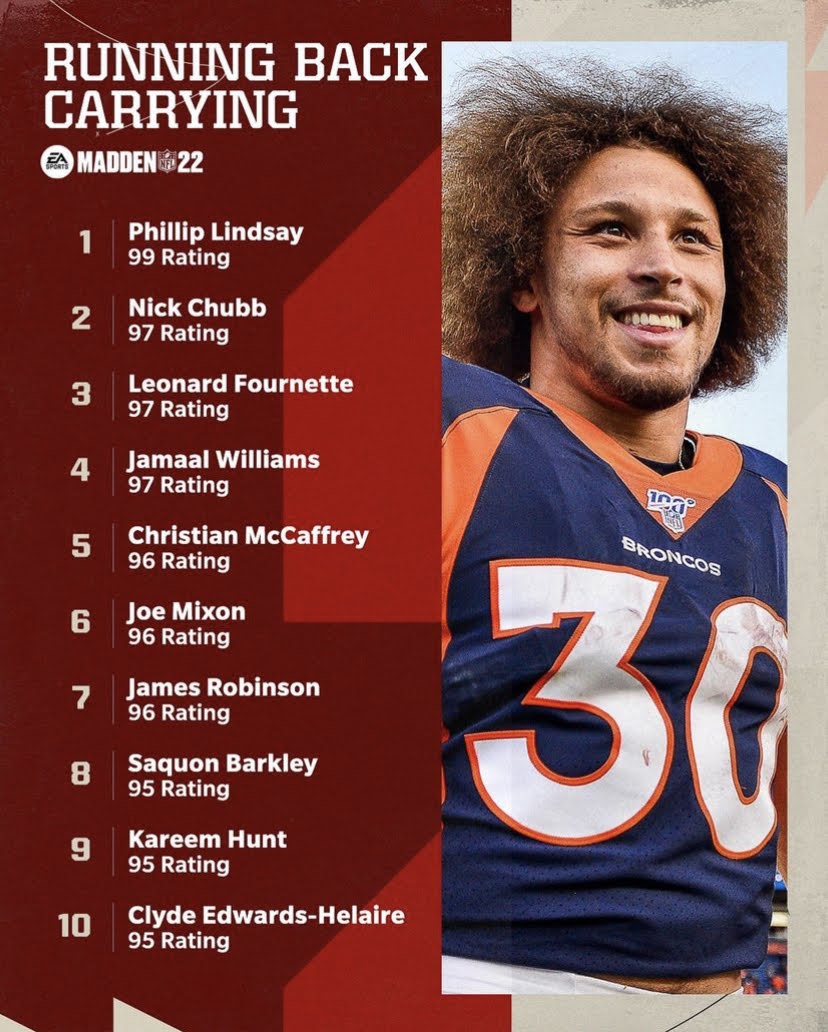 Top 10 Running Back Change of Direction (Madden NFL 22)
1. Dalvin Cook - 95 Rating
2. Christin McCaffrey - 94 Rating
3. Saquon Barkley - 94 Rating
4. Ameer Abdullah - 93 Rating
5. Ronald Jones - 93 Rating
6. Devin Singletary - 92 Rating
7. Phillip Lindsay - 92 Rating
8. Chase Edmonds - 91 Rating
9. Aaron Jones - 91 Rating
10. Boston Scott - 91 Rating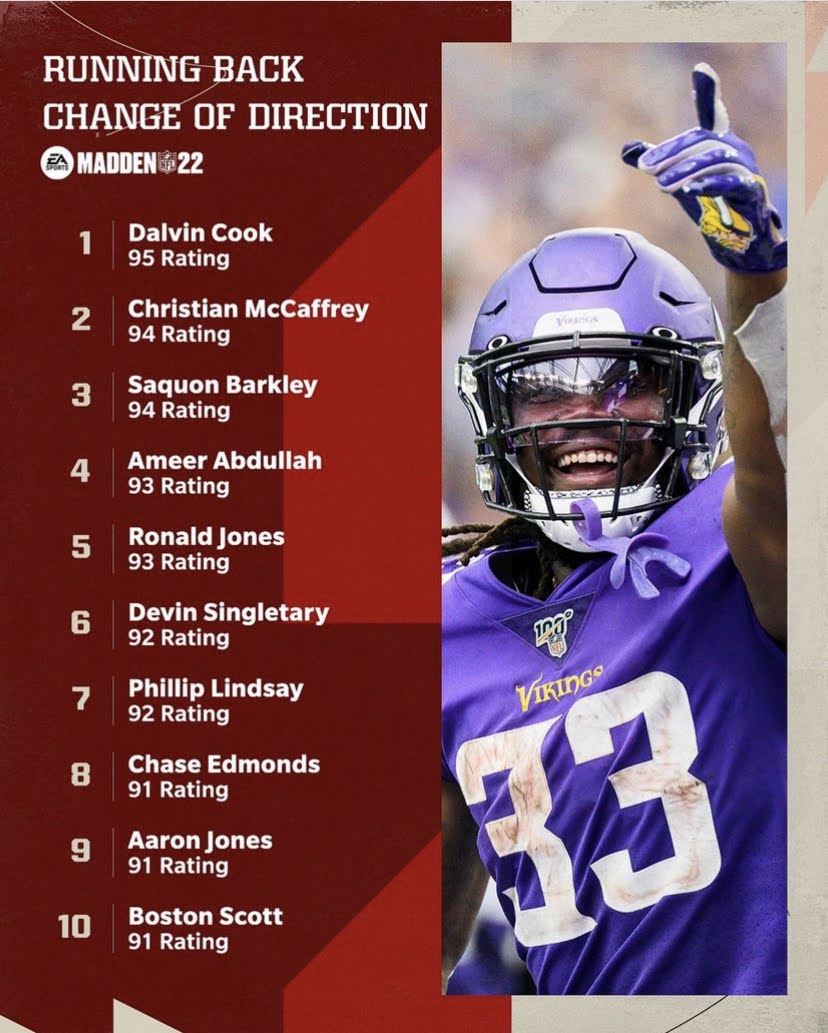 Top 10 Short Route Running (Madden NFL 22)
1. Davante Adams - 99 Rating
2. DeAndre Hopkins - 97 Rating
3. Stefon Diggs - 96 Rating
4. Amari Cooper - 95 Rating
5. Julio Jones - 94 Rating
6. Cole Beasley - 94 Rating
7. Keenan Allen - 93 Rating
8. Tyreek Hill - 92 Rating
9. Michael Thomas - 92 Rating
10. Adam Thielen - 91 Rating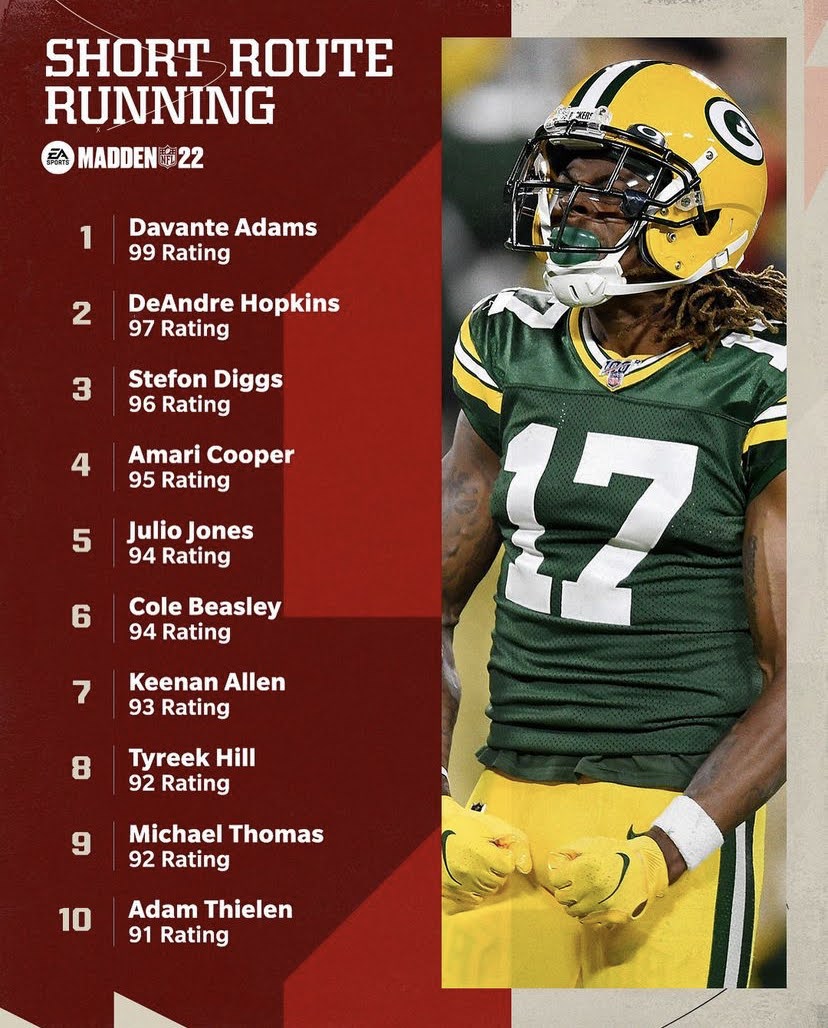 Top 10 Spectacular Catch (Madden NFL 22)
1. DeAndre Hopkins - 99 Rating
2. Odell Beckham Jr. - 99 Rating
3. Davante Adams - 98 Rating
4. Adam Thielen - 98 Rating
5. Stefon Diggs - 97 Rating
6. Mike Evans - 97 Rating
7. Julio Jones - 96 Rating
8. Michael Thomas - 96 Rating
9. Allen Robinson - 95 Rating
10. DK Metcalf - 945 Rating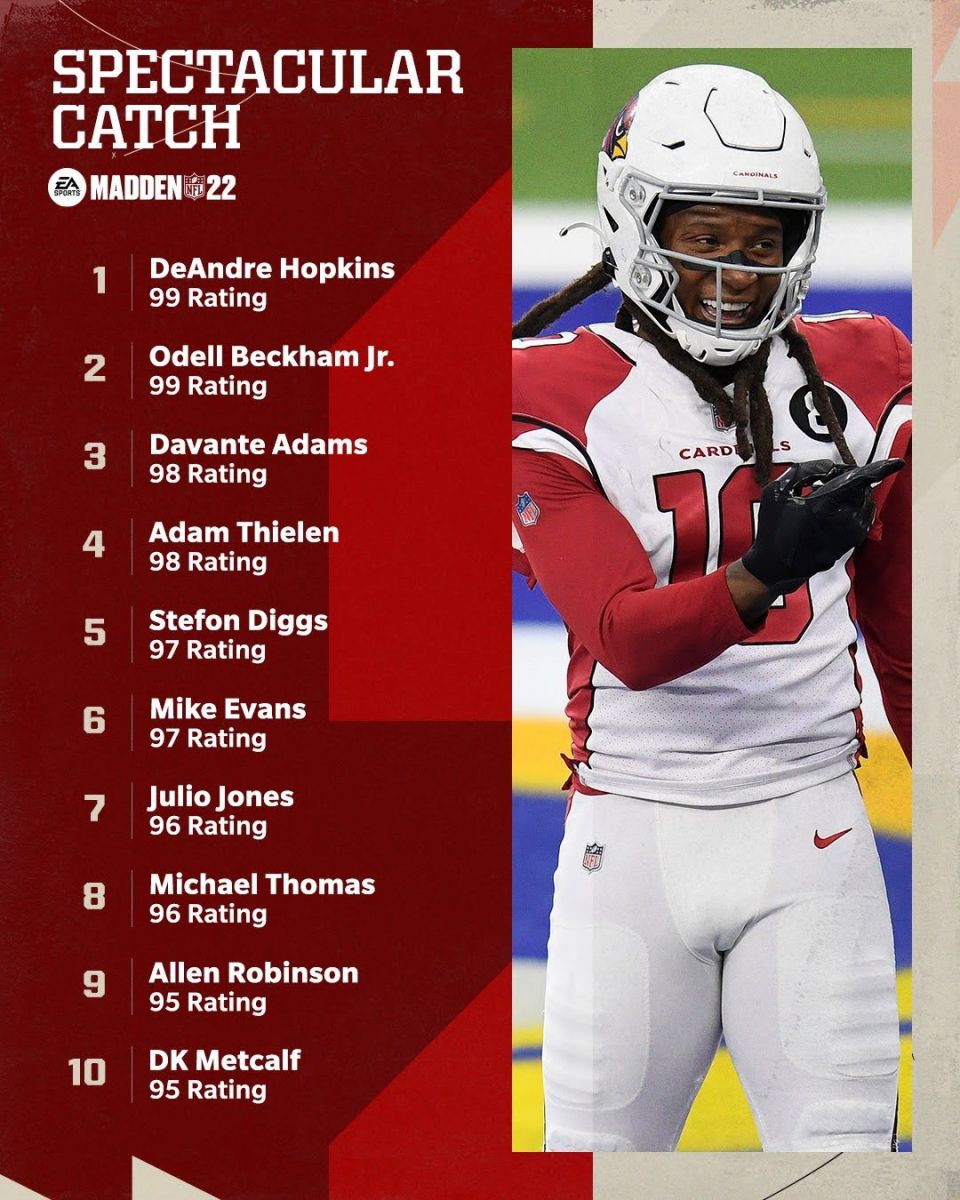 Top 10 Speed Running Backs (Madden NFL 22)
1. Raheem Moster - 97 Rating
2. Matt Brieda - 94 Rating
3. Kene Nwangwu - 94 Rating
4. Jonathan Taylor - 93 Rating
5. Phillip Lindsay - 93 Rating
6. Nyheim Hines - 93 Rating
7. Tony Pollard - 93 Rating
8. Christian McCaffrey - 92 Rating
9. Derrick Henry - 92 Rating
10. Nick Chubb - 92 Rating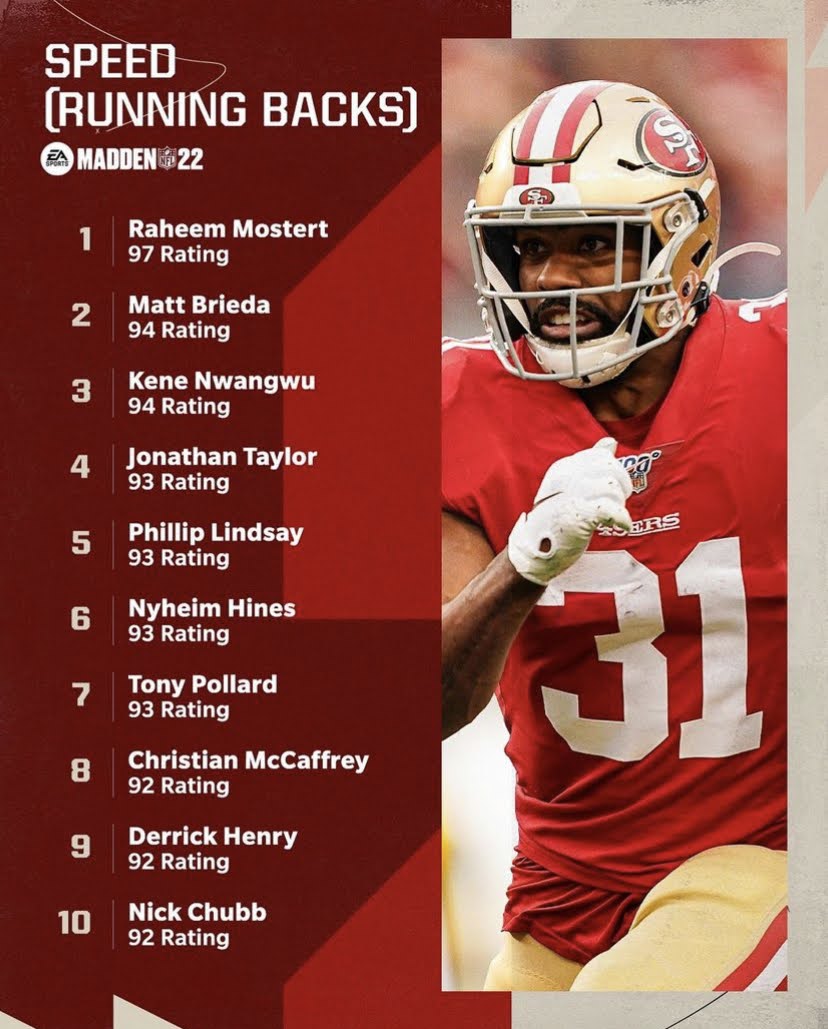 Top 10 Stiff Arm - Running Backs (Madden NFL 22)
1. Derrick Henry - 99 Rating
2. Alvin Kamara - 92 Rating
3. Chris Carson - 91 Rating
4. James Conner - 90 Rating
5. Nick Chubb - 89 Rating
6. Melvin Gordon III - 89 Rating
7. Ezekiel Elliott - 88 Rating
8. Joe Mixon - 88 Rating
9. Aaron Jones - 87 Rating
10. Saquon Barkley - 87 Rating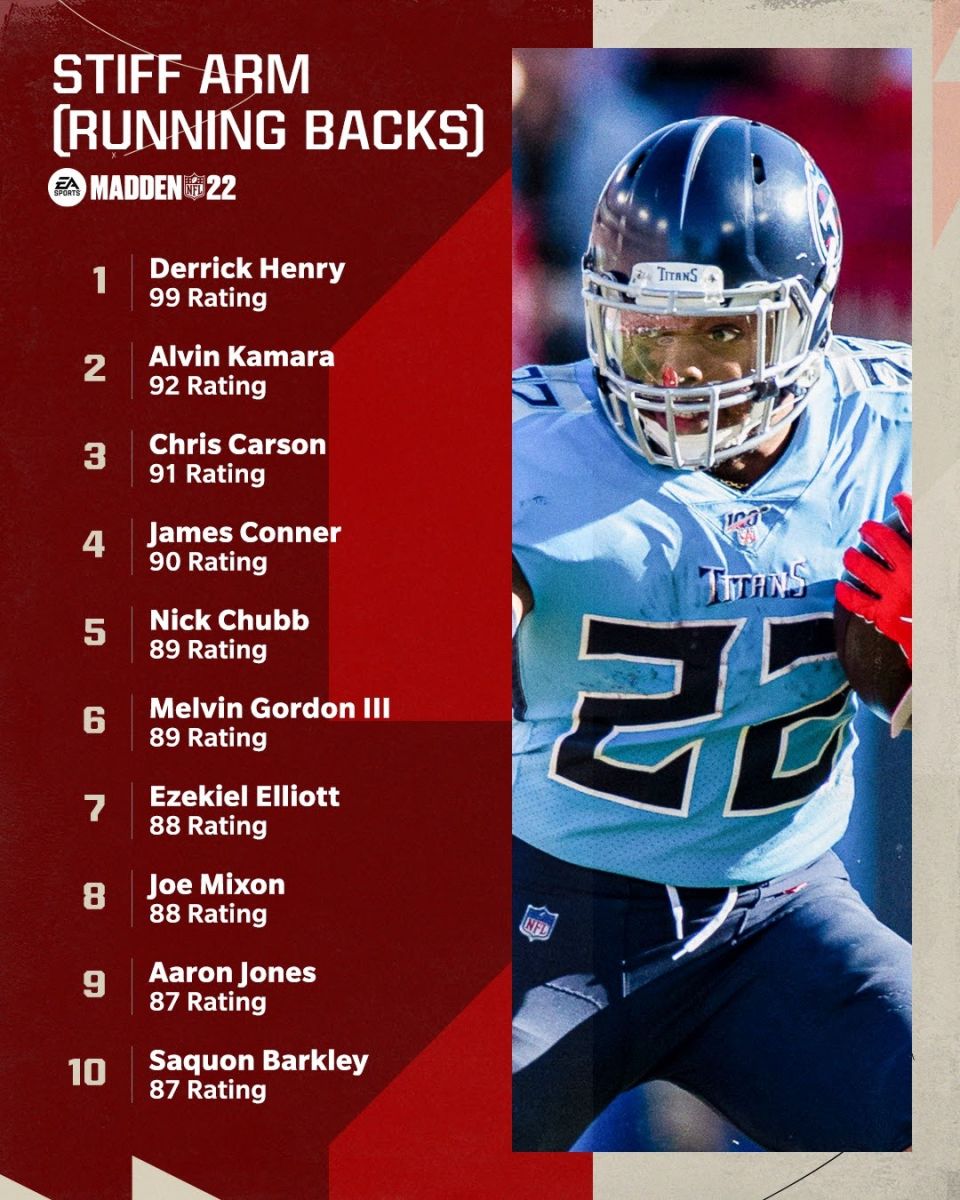 Top 10 Strength - Defensive Line (Madden NFL 22)
1. Aaron Donald - 99 Rating
2. Matthew Loannidis - 98 Rating
3. Linval Joseph - 98 Rating
4. Vita Vea - 97 Rating
5. Michael Pierce - 96 Rating
6. Kenny Clark - 96 Rating
7. Brandon Williams - 96 Rating
8. Fletcher Cox - 95 Rating
9. Akiem Hicks - 95 Rating
10. Da'Ron Payne - 95 Rating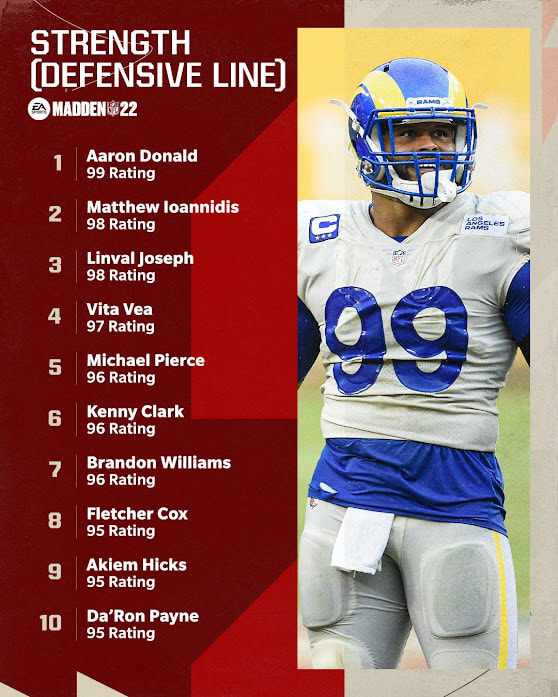 Top 10 Defensive Linemen (Madden NFL 22)
1. Aaron Donal - 99 overall
2. Fletcher Cox - 94 overall
3. Chris Jones - 92 overall
4. DeForest Buckner - 92 overall
5. Cameron Heyward - 92 overall
6. Michael Pierce - 91 overall
7. Calais Campbell - 90 overall
8. Kenny Clark - 89 overall
9. Stephon Tuitt - 89 overall
10. Vita Vea - 88 overall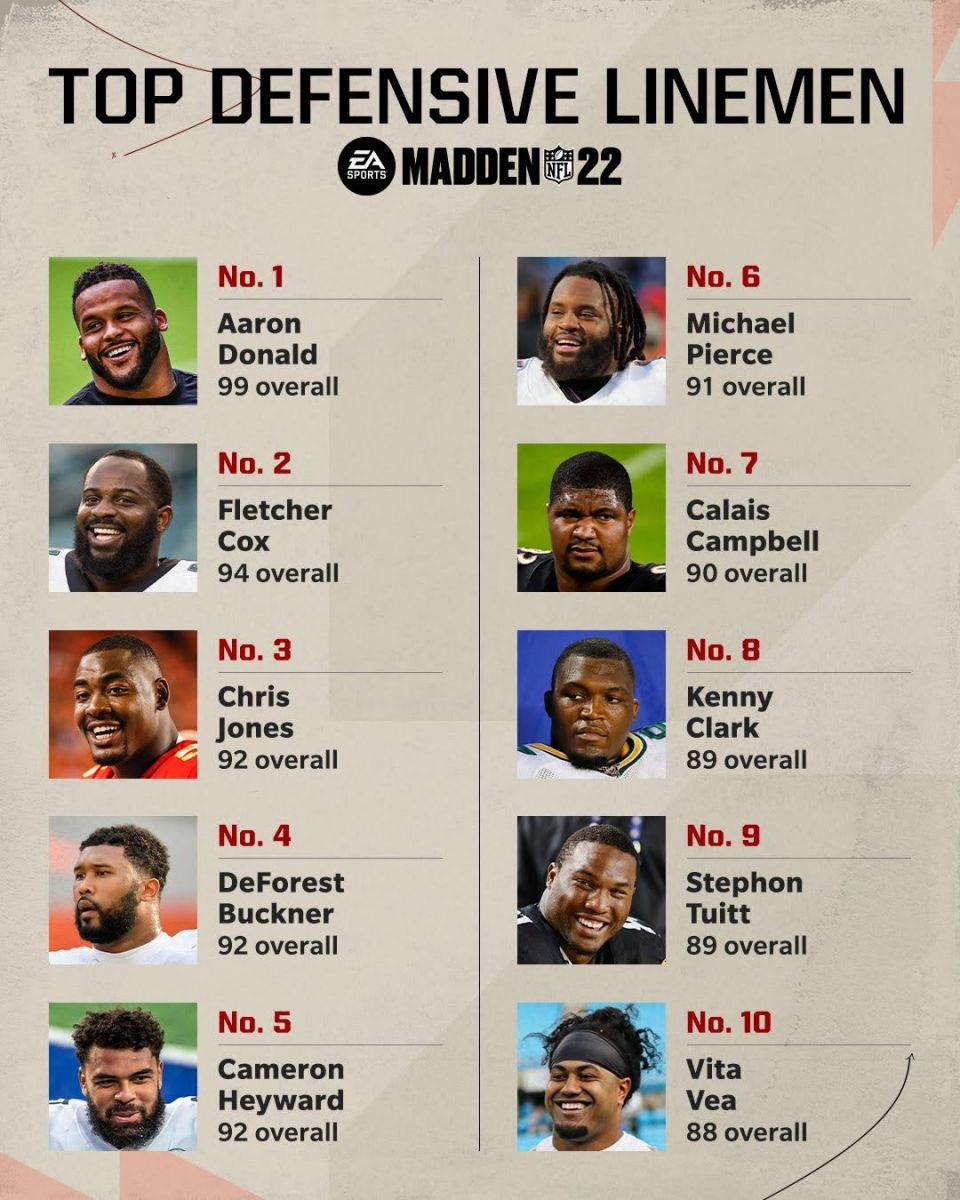 Top 10 Running Backs (Madden NFL 22)
1. Christian McCaffrey - 97 overall
2. Derrick Henry - 96 overall
3. Nick Chubb - 96 overall
4. Dalvin Cook - 95 overall
5. Alvin Kamara - 94 overall
6. Aaron Jones - 91 overall
7. Saquon Barkley - 90 overall
8. Josh Jacobs - 89 overall
9. Ezekiel Elliott - 88 overall
10. Joe Mixon - 88 overall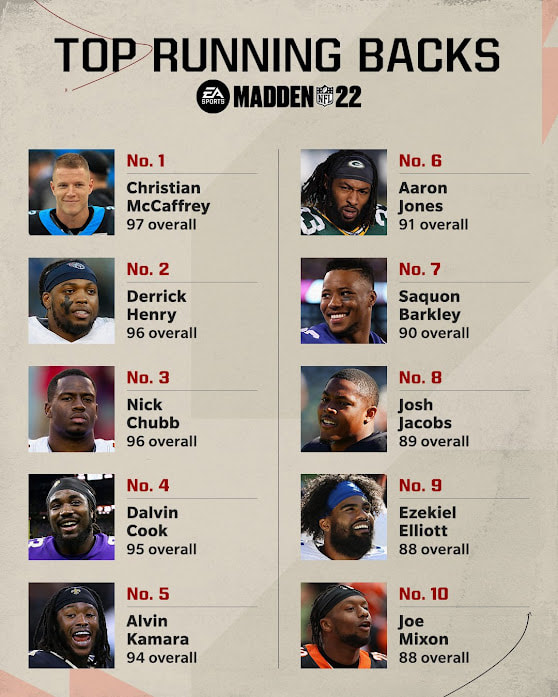 Top 10 Safeties (Madden NFL 22)
1. Tyrann Mathieu - 95 overall
2. Budda Baker - 93 overall
3. Devin McCourty - 92 overall
4. Jessie Bates III - 91 overall
5. Justin Simmons - 91 overall
6. Jamal Adams - 90 overall
7. Harrison Smith - 90 overall
8. Eddie Jackson - 89 overall
9. Adrian Amos - 89 overall
10. Minkah Fitzpatrick - 89 overall
Top 10 Tight Ends (Madden NFL 22)
1. Travis Kelce - 99 overall
2. George Kittle - 96 overall
3. Darren Waller - 93 overall
4. Mark Andrews - 88 overall
5. Hunter Henry - 87 overall
6. Austin Hooper - 86 overall
7. Rob Gronkowski - 86 overall
8. Mike Gesicki - 85 overall
9. T.J. Hockenson - 85 overall
10. Dallas Goedert - 84 overall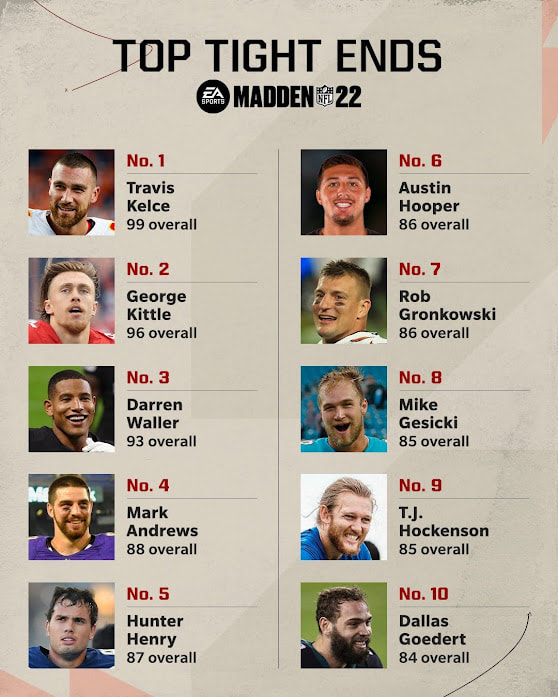 Top 10 Wide Receivers (Madden NFL 22)
1. Davante Adams - 99 overall
2. DeAndre Hopkins - 98 overall
3. Tyreek Hill - 98 overall
4. Stefon Diggs - 97 overall
5. Julio Jones - 95 overall
6. Michael Thomas - 94 overall
7. Keenan Allen - 93 overall
8. Amari Cooper - 92 overall
9. Mike Evans - 91 overall
10. Allen Robinson - 90 overall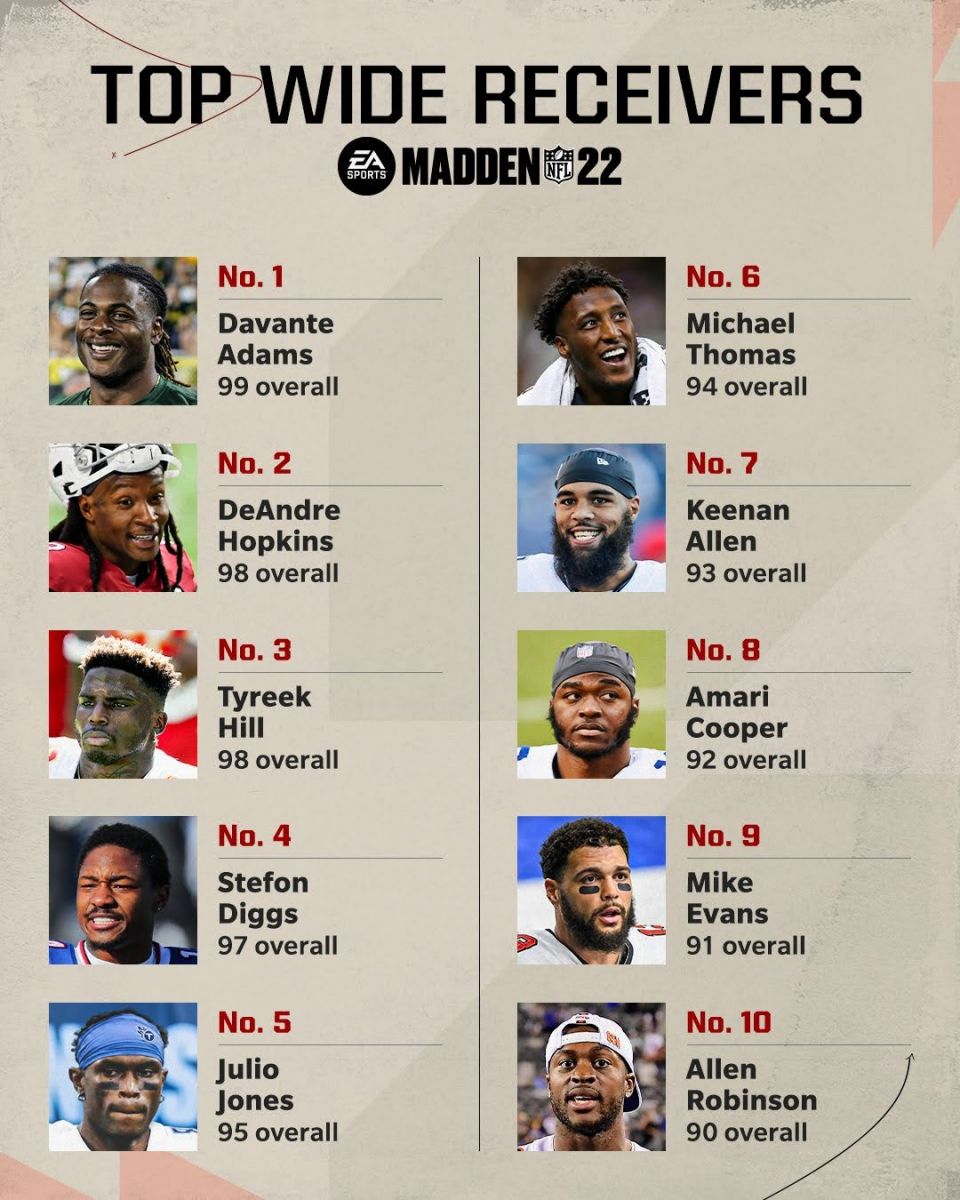 Top 10 Catching (Madden NFL 22)
1. Christian McCaffrey - 91 Rating
2. Austin Ekeler - 79 Rating
3. James White - 78 Rating
4. Nyheim Hines - 77 Rating
5. Alvin Kamara - 76 Rating
6. Cordarelle Patterson - 76 Rating
7. J.D. McKissic - 76 Rating
8. Antonio Gibson - 75 Rating
9. Taquan Mizzell - 75 Rating
10. Saquon Barkley - 74 Rating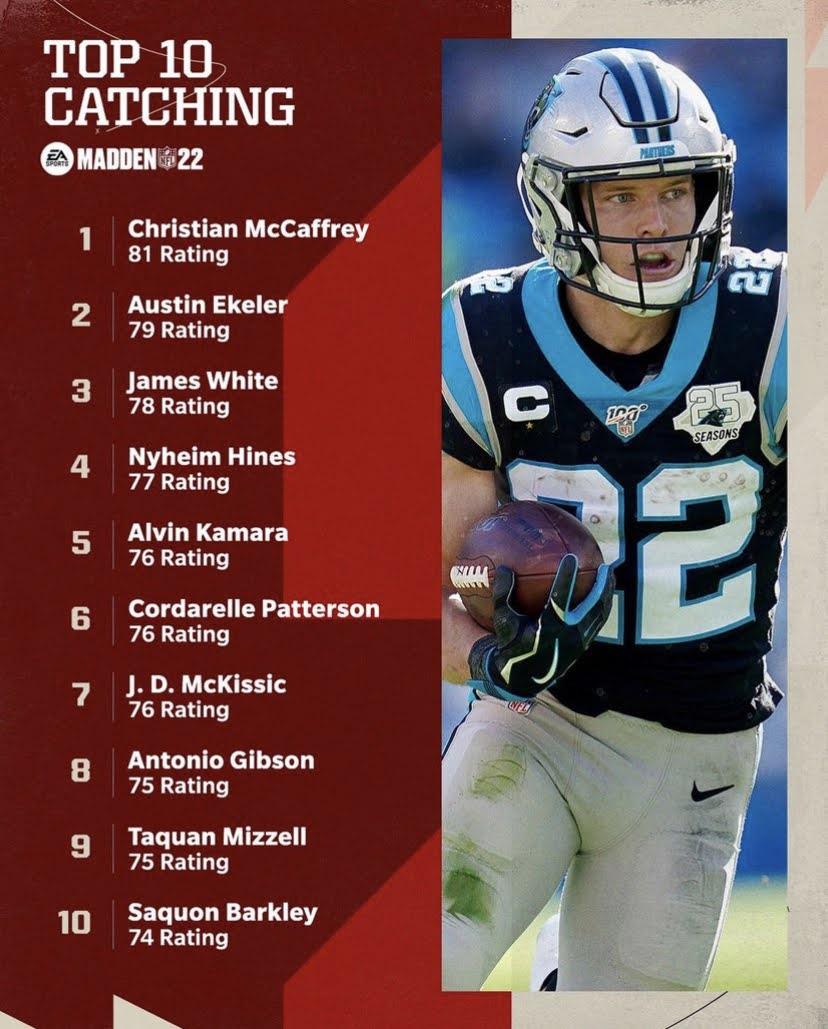 Top 10 Cornerbacks (Madden NFL 22)
1. Jalen Ramsey - 99 overall
2. Stephon Gilmore - 97 overall
3. Jaire Alexander - 95 overall
4. Tre'Davious White - 93 overall
5. Marlon Humphrey - 92 overall
6. Xavien Howard - 91 overall
7. James Bradberry - 90 overall
8. Denzel Ward - 89 overall
9. Kendall Fuller - 89 overall
10. Darius Slay Jr. - 88 overall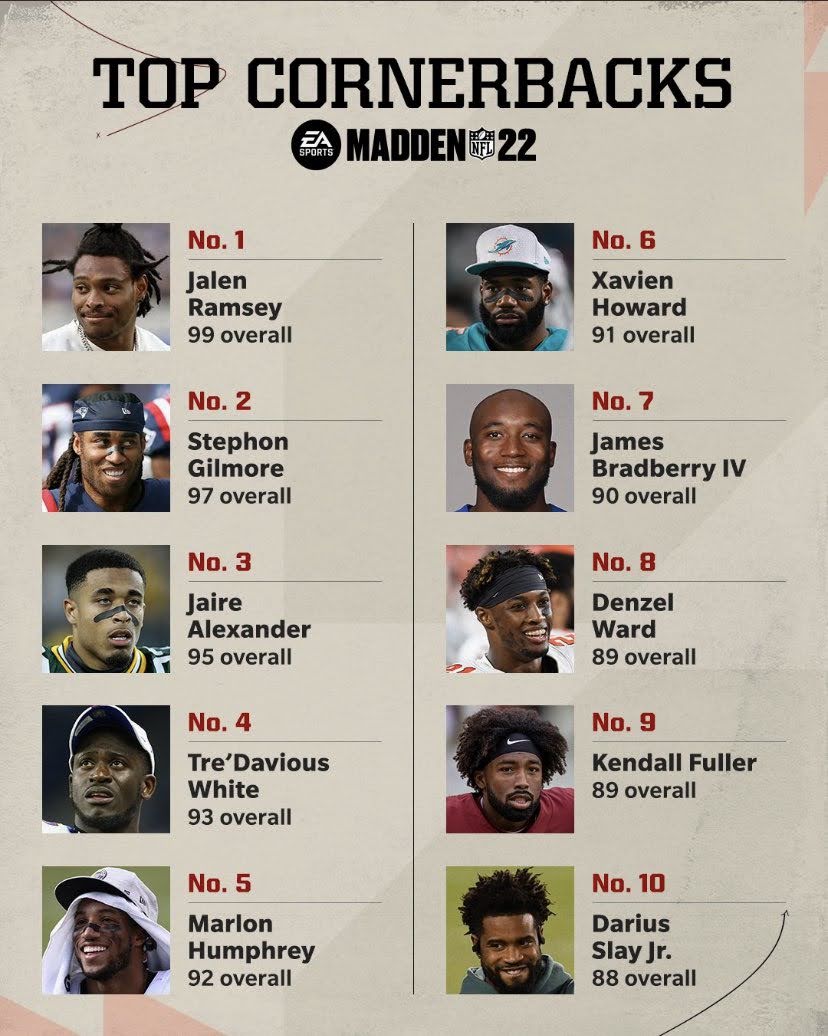 Top 10 Edge Rushers (Madden NFL 22)
1. Myles Garrett - 98 overall
2. Khalil Mack - 96 overall
3. T.J. Watt - 94 overall
4. Chandler Jones - 94 overall
5. J.J. Watt - 94 overall
6. Cameron Jordan - 93 overall
7. Von Miller - 93 overall
8. Joey Bosa - 92 overall
9. Nick Bosa - 90 overall
10. Za'Darius Smith - 89 overall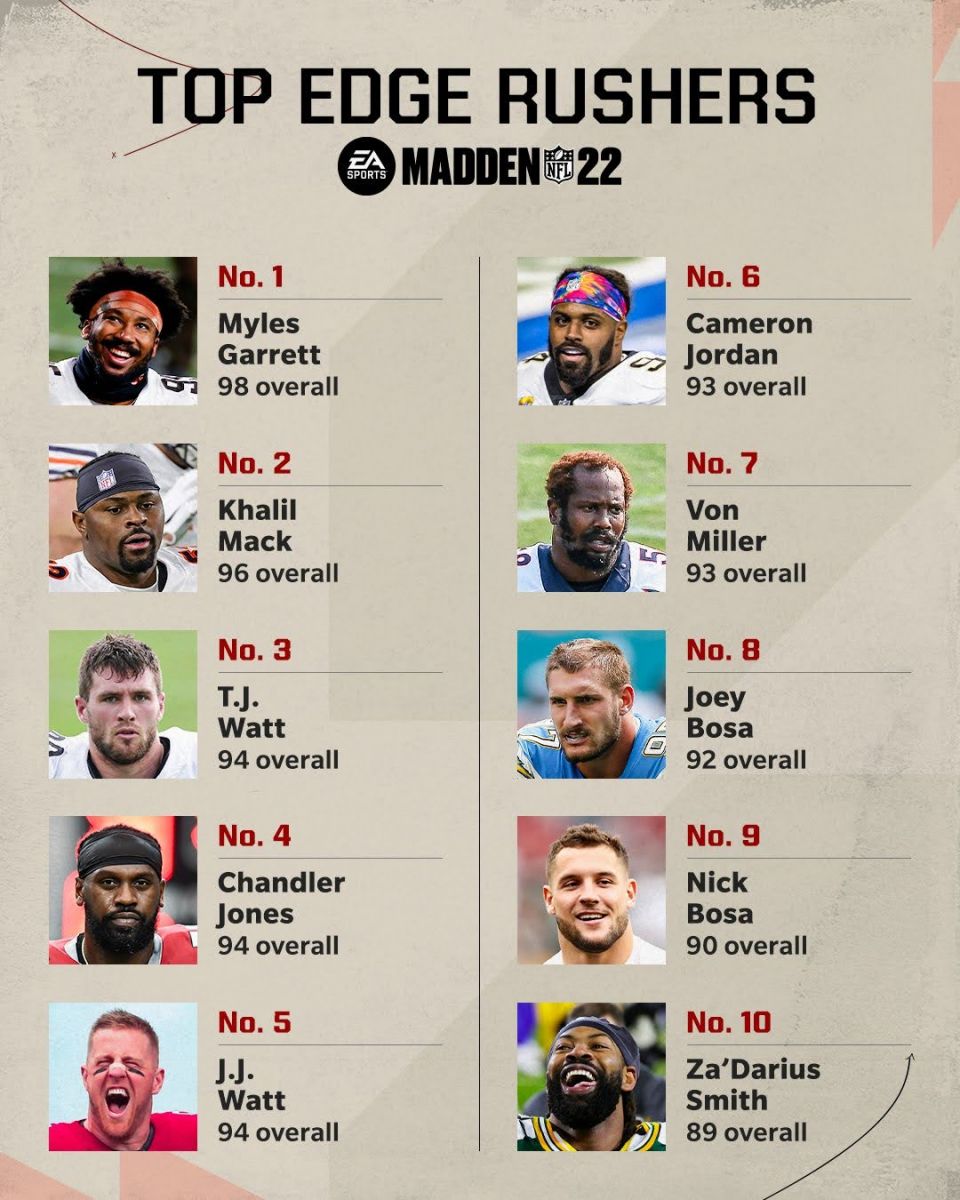 Top 10 Zone Coverage (CornerBacks)
1. Jalen Ramsey - 99 Rating
2. Stephon Gilmore - 96 Rating
3. Jaire Alexander - 95 Rating
4. Tre'Davious White - 93 Rating
5. Kyle Fuller - 92 Rating
6. Byron Jones - 91 Rating
7. Darius Slay - 91 Rating
8. James Bradberry - 90 Rating
9. Xavien Howard - 90 Rating
10. Marlon Humphrey - 89 Rating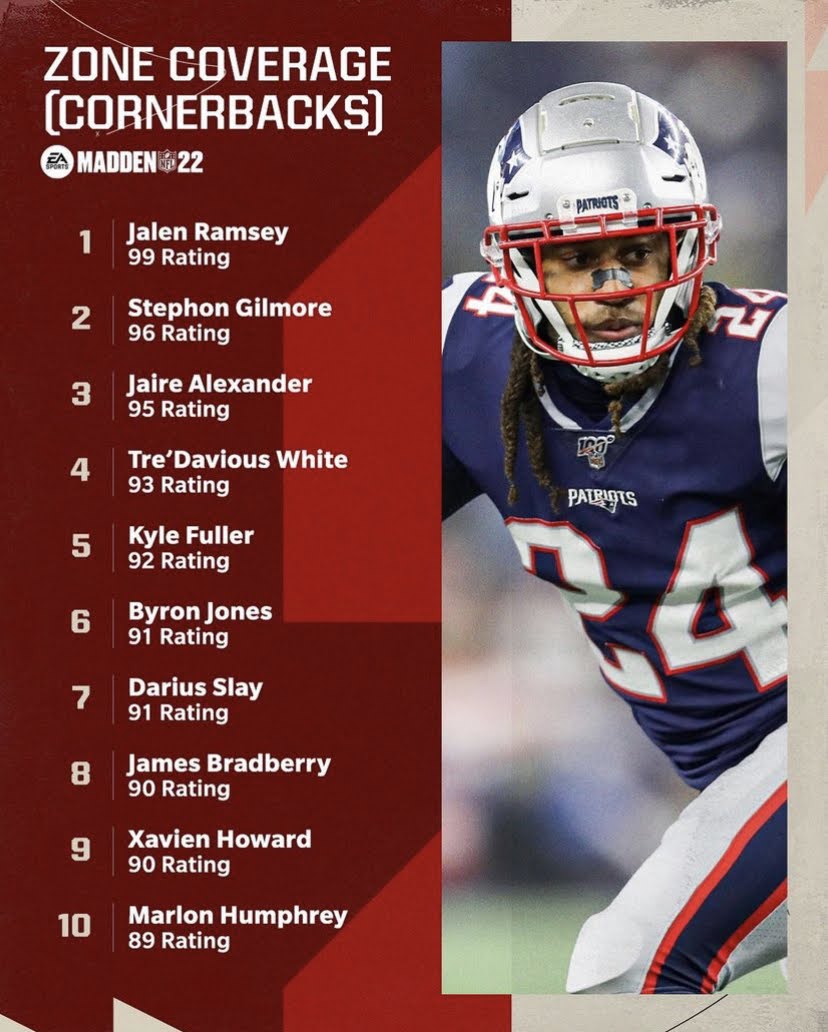 Maden 22 - Starting QBs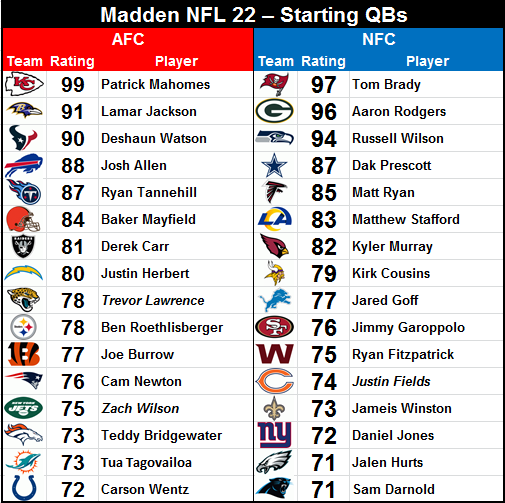 Madden NFL 22 99 Clubs
Kansas City Chiefs: 99 Overall - PATRICK MAHOMES | QB
Los Angeles Rams: 99 Overall - JALEN RAMSEY | CB
Kansas City Chiefs: 99 Overall - TRAVIS KELCE | TE
Los Angeles Rams: 99 Overall - AARON DONALD | DE
Green Bay Packers: 99 Overall - DAVANTE ADAMS | WR